Events in DAC
Known Unknown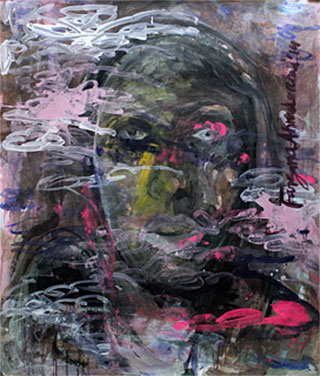 Dhaka Art Center is delighted to announce the Opening ceremony of a curatorial solo art exhibition titled - 'Known Unknown' of artist Farzana Ahmed Urmi, on 6.30 pm, 16 October, Thursday, 2014.

The exhibition will continue from 16 to 23 October, 2014. Everyday 3.00 pm to 8.00 pm.
'Farzana Ahmed Urmi' shows an intense interest in questions of perception - in the boundaries and potential of self experience, vision and painting. She has combined conscious vision and the fleeting perception of a blink in one image. Her paintings exhibits fascination with awkwardness and search for an distinct aesthetics from our academic visual arts. Her courage to use elective gestures lends her figures their eerie and powerful presence. Her portraitures are unnerving naked images of agony, anger, soreness, revenge or akin expressive emotions, as she is embracing the known and unknown faces of this urban society.

She is striving to create her own artistic identity distinguished with visually penetrating psychological tension and compositional arrangements. While holding a postgraduate degree on Printmaking, Farzana is quite spontaneous to choose any technique as her media. Her surface making with various techniques and materials like paper, ink, watercolor, acrylic, oil, collage and drawn subjects with emotional brush or finger tapping strokes, tremendously shows how intensely she is physically involve with her work. In her work one can see body and psyche are inextricably linked and influenced by each other.

Visually her works have a intense quality, as she is oscillating between Figuration and Abstraction. On a fleeting look, her paintings have a figurative quality. But giving a scrutiny, these paintings tend to look flat with dark monochromes, where she indented paring down to an abstraction of line, color, from, tension, mood & atmosphere. She achieves a degree of abstraction as she struggles to watch very closely to know the inner self of a person. This notion of closeness makes her portraits large and abstract to us, as if they have ambiguous hints of facial features. But they have a strong contour and wide-open eyes with lot of psychic expressions. This journey between figuration to abstraction or vice-versa, gives her subject an unsettling impact. And this way her grotesque and nuanced characters raise our everyday to the sublime.

Our body, the mirror of the soul and our body speaks its own language. Our body does not forget anything. Our body has its own psyche, which always tries to take the control over us with its own language. We can say, Farzana simply heard that united language of her body and psyche, which came out as a living visual experience of know to unknown.

- Curatorial note by  Wakilur Rahmn & Kehkasha Sabah
Studio Facilities

The Center is proud to sponsor the work of both amateur and established artists through its studio program.
Read More
True Colors-Rediscovering Bangladesh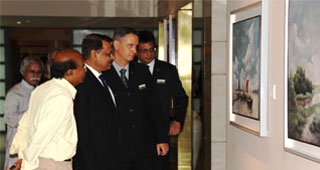 Radisson Blu Water Garden Hotel Dhaka (RBWGHD) brings you "True Colors-Rediscovering Bangladesh", a distinctive Art Exhibition, being held in collaboration with Dhaka Art Centre on 25th August, 2014. The theme of the exhibition comprises picturesque landscapes of Bangladesh, captured in canvas as well as water color, of unique scenic locations evoking a sense of tranquility & aestheticism.
The exhibition inaugurated by Brig. Gen. Jahangir Alam (Managing Director – Sena Hotel Developments Limited). Mr. Christoph Voegeli, General Manager-Radisson Blu Dhaka, Mr. Saeed Ahmed, EAM&DOSM-Radisson Blu Dhaka, Artist Mr. Abdul Mannan & Mr. Alakesh Ghosh, Trustee Members of Dhaka Art Center and distinguished guests were also present there.

Exhibition will continue for a period of three months, everyday 12 pm– 8pm.
Donation from Sayeed Siddiqui Rumi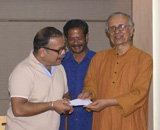 In an informal gathering at Dhaka Art Center, photographer Sayeed Siddiqui Rumi handed over a check as donation to Mr. Ramendu Majumder, the Chairperson of board of trustee of DAC on 27 April, 2012.
101 Artist Art Camp Exhibition 2010
sponsored by Aamra Group & Depart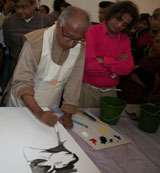 Dhaka Art Center started its journey for promotion of art and artist. With 101 artists, Dhaka Art Center held a camp and then an exhibition at the Dhaka Art Center premises. The event was sponsored by Aamra Group and Depart. The event took place between 10th to 19th of April, 2010.
Scholarship, Residency
Art Compitition
Other Galleries
Alliance Francaise de Dhaka, Athena Gallery of Fine Arts, Bangladesh Shilpakala Academy, Bengal Gallery of Fine Art, Britto Art Trust, Chobi Mela, Dhaka Art Summit, 2012, Drik Gallery, Gallery Chitrak, Galleri Kaya, Goethe Institute, Dhaka, Institute of Architects Bangladesh, Jolrong