Events in DAC
Existence Delineated! 6th Solo Exhibition by Fahmida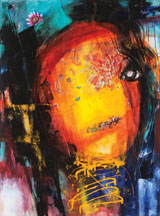 Bangladeshi - Canadian artist/ activist, Fahmida who is totally engaged in her work with existing progeny that confront modern occidental society such as Child marriage. The Dhaka Art Center is delighted to Present Existence Delineated ! 6th Solo exhibition of artist's most recent multidisciplinary works of Paintings similarly Photography,video and Installation.
Fahmida belief life is a series of connecting moments, traversing physical and philosophical frontiers. She creates art for seeking balance of Art and Life. This exhibition is title on her Installation project, here she aspires to raise some critical awareness of the experience of this significant juvenile's progeny. Attempt to create sensible environments that associate the viewer to become a more active part of this.
Ambassador of Canada Her Excellency Heather Cruden will inaugurate the Exhibition also master Artist Monirul Islam and Professor Rafiqun Nabi will be present to grace the ceremony as an Honourable Special Guest.

Exhibition will continue from Saturday 30th August, 5:30pm to 8th September 2014, everyday 3pm – 8pm.
True Colors-Rediscovering Bangladesh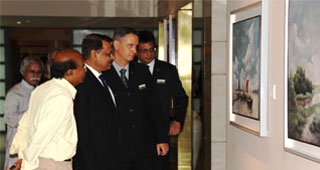 Radisson Blu Water Garden Hotel Dhaka (RBWGHD) brings you "True Colors-Rediscovering Bangladesh", a distinctive Art Exhibition, being held in collaboration with Dhaka Art Centre on 25th August, 2014. The theme of the exhibition comprises picturesque landscapes of Bangladesh, captured in canvas as well as water color, of unique scenic locations evoking a sense of tranquility & aestheticism.
The exhibition inaugurated by Brig. Gen. Jahangir Alam (Managing Director – Sena Hotel Developments Limited). Mr. Christoph Voegeli, General Manager-Radisson Blu Dhaka, Mr. Saeed Ahmed, EAM&DOSM-Radisson Blu Dhaka, Artist Mr. Abdul Mannan & Mr. Alakesh Ghosh, Trustee Members of Dhaka Art Center and distinguished guests were also present there.

Exhibition will continue for a period of three months, everyday 12 pm– 8pm.
Studio Facilities

The Center is proud to sponsor the work of both amateur and established artists through its studio program.
Read More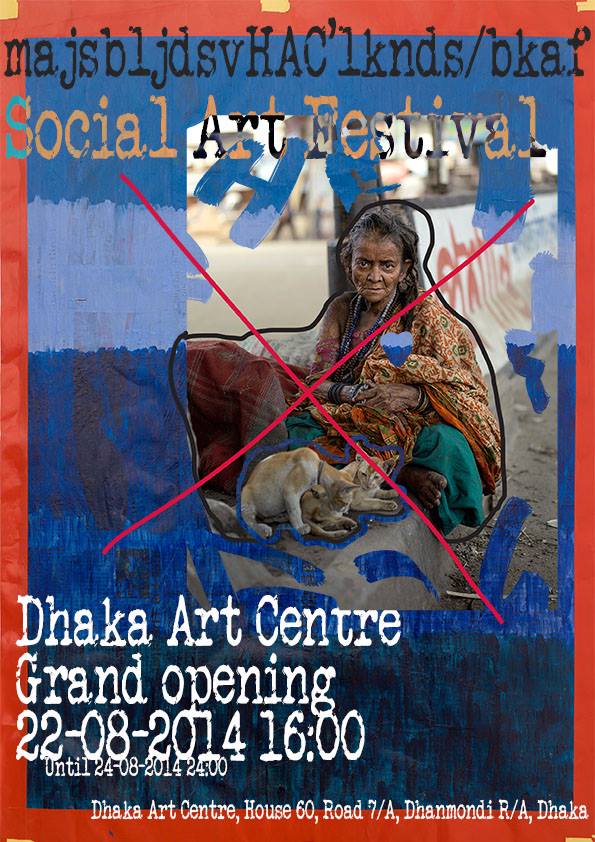 Dhaka social art festival: What do you contribute to the world? A unique three month long project on social issues is taking place in Dhaka. This project has been initiated by Martijn Crowe, artist and creative director of The Faketory art studio, and artist Ronald Merkesteijn. They work together with over 50 organizations, local artists, schools and students, an orphanage house and university professors to facilitate this project. The idea is to show the world the real and complex face of Dhaka. They aim for awareness and responsibility. As soon as you know about it, you are also responsible. For the sake of telling the untold stories, Crowe works together with a group of 25 Bangladeshi artists at Dhaka Art Center, varying from painters, photographers, authors and graphic designers. They were challenged to bring their art to another depth, working with the question "What do you contribute to the world?". In this process they picked a group of people in Dhaka to make a connection with. Trina tells us: "This process has brought me closer to the bangle sellers I walked by everyday, now I know about their lives. It has changed me, and I want to invite you to do the same: See them, make a connection." They worked with bangle sellers, musicians, rickshaw drivers, homosexuals, elderly, cleaners and homeless. When they started this project, they had some kind of definition of the situation. After that they contacted these people, talked to them, met them, portrayed them. After that their ideas and definitions were changed. Also the people they worked with changed. From that experience they created art works: paintings, installations, drawings, photography, statues and stories. The 22nd, 23rd and 24th of august all the work will be displayed during the Dhaka social art festival, in and around Dhaka art centre. It will be an interactive creative experience, showcasing art, movies and performances, based on the Gespuis festival Crowe organized in Amsterdam, using the city as part of the exhibition. On the 22nd the festival will open with a procession of artists and musicians at 4 PM.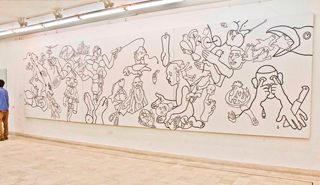 Donation from Sayeed Siddiqui Rumi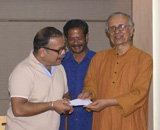 In an informal gathering at Dhaka Art Center, photographer Sayeed Siddiqui Rumi handed over a check as donation to Mr. Ramendu Majumder, the Chairperson of board of trustee of DAC on 27 April, 2012.
101 Artist Art Camp Exhibition 2010
sponsored by Aamra Group & Depart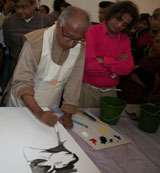 Dhaka Art Center started its journey for promotion of art and artist. With 101 artists, Dhaka Art Center held a camp and then an exhibition at the Dhaka Art Center premises. The event was sponsored by Aamra Group and Depart. The event took place between 10th to 19th of April, 2010.
Scholarship, Residency
Art Compitition
Other Galleries
Alliance Francaise de Dhaka, Athena Gallery of Fine Arts, Bangladesh Shilpakala Academy, Bengal Gallery of Fine Art, Britto Art Trust, Chobi Mela, Dhaka Art Summit, 2012, Drik Gallery, Gallery Chitrak, Galleri Kaya, Goethe Institute, Dhaka, Institute of Architects Bangladesh, Jolrong